Bholaa movie review: Ajay Devgn directs and performs in this mediocre Kaithi adaptation that relies heavily on VFX and adrenaline. Remember when Ajay Devgn made that legendary split on top of two bikes in his debut film Phool Aur Kaante (1991)? Cut to 2023, and instead of balancing on them, he's flipping them in the air, setting them on fire, bashing bikers left, right, and center, and serving up some high-octane action. Bholaa is undeniably thrilling to watch.
Bholaa is nothing short of a full-on crowd entertainment, turning a theatre into a stadium with the public cheering and clapping each time the hero performs a gravity-defying maneuver. Is all of that possible? No. Do you find it entertaining to watch? It all depends on whether you enjoy well-choreographed stunts.
Bholaa will offer you an adrenaline rush, but if you're looking for a significant story or at least a storyline with some purpose, Bholaa will disappoint you on many levels. Bholaa, a Hindi version of the Tamil film Kaithi (2019), attempts to capture the same charm, although with imperfections.
And there are a lot of them! Ajay Devgn, once again in the director's chair, guarantees that he brings larger-than-life action to the screen that hasn't been seen before, or at least not on this scale. Nevertheless, the story is sidelined so much that you genuinely wait for things to make sense. After a certain point, it's practically a montage of one brilliant action sequence after another, but the thoughtless stunts can only dazzle you for so long.
Bholaa tells the story of a night when a recently freed prisoner, ex-conman Devgn (Bholaa), is anticipating seeing his daughter for the first time in ten years. But his journey becomes more challenging when IPS Diana Joseph (Tabu) requests him to drive a truck load of 40 unconscious police officers who fell victim to a scheme during a senior officer's goodbye party (Kiran Kumar in a cameo).
In the meantime, the Sika Gang – Ashwathama aka Ashu (Deepak Dobriyal) and his elder brother Nithari – are running a narcotics cartel and will go to any length to get their cocaine back that Diana has seized and imprisoned. They dispatch numerous gangs to kill the cops in the truck and kidnap Diana, but Bholaa transforms into an unstoppable force and defeats them all. That's basically the plot, which will keep you entertained, if not hooked, for about 2.5 hours.
Many things remain unresolved, and very little of Bholaa's past is shown, told, or revealed. Who exactly is Bholaa? How did he get that powerful? Why was he sentenced to begin with? There's a fleeting love interest between Bholaa and Amala Paul, but that's about it. It is never mentioned how that love blooms and becomes the spark for many things.
That turned me off a little. Of course, the cliff-hanger towards the climax piques your interest, and the film ends on a 'to be continued' note, but this is too much of a tease to keep audiences waiting for the truth to be revealed. Indeed, it's comparable to the Baahubali mania and excitement. I'm not sure if the sequel will return with all the answers or will focus just on the adrenaline component.
Bholaa is so fast-paced that it takes time to soak in one action sequence before moving on to the next. Aamil Keeyan Khan, Ankush Singh, Sandeep Kewlani, and Shriidhar Dubey's intriguing screenplay does the trick here. The action scenes are not fragmented parts of a puzzle, but are expertly positioned to keep the adrenaline high.
Lokesh Kanagaraj, who also wrote the original, is strong with an intriguing plot, but if you haven't seen Kaithi, then Bholaa looks like a cat-and-mouse chase between this truck being driven on endless roads across the state, and criminals lurking every few kilometers only to be evaded by Bholaa's might. The cinematography of Aseem Bajaj is complex. Given that the film was shot fully at night and is generally dark, accentuating the pictures and graphics is a difficult task in this situation, so it becomes a little jumbled there.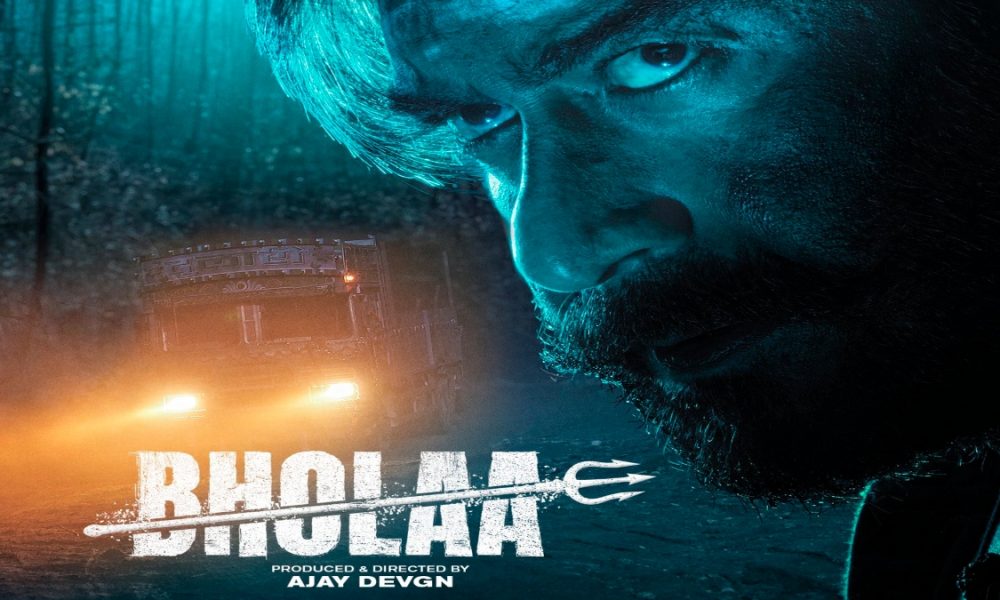 Devgn is in high form as an actor, and when he rolls up his sleeves and performs stunts, anticipate the unexpected. I mean, isn't it extremely '70s' to see the hero beating 100 men and still standing up and fighting with the same stamina every time? Indeed, he channels his inner Shiva to the best of his ability, but this is far from reality.
I wanted to see more of him talk, and even the emotional moments that came and went should have lasted a little longer. Tabu seemed to be getting better at playing cops. She looks more assured and believable in uniform than any other female actor after two parts in Drishyam, Kuttey, and now Bholaa. Though in Bholaa, we rarely see her in a police uniform because she is usually pushed to disappear as Devgn grabs the attention while fighting the bad guys.
Dobriyal is excellent in a very crazy and terrifying performance. For a while, I assumed it was choreographer Terrence Lewis making his acting debut, but when you look closer, you see Dobriyal, who simply blows you away with his performance. Yadav ji (Sanjay Mishra) and the corrupt home minister (Gajraj Rao) provide useful support to the plot and dazzle with their acting abilities.
Bholaa's heavyweight dialogues are so passable that you question why they were included in the first place. Such examples include: Bandook ki naukri ki hai, goli toh khani padegi.
Toh dikhe hote, toh nahi dikhte. Yes, budzil paida nahi karti dharti banjar hokar. Sankhya, ladaiyan honslon se jeeti jaati hain, bal aur hathiyaron se nahi. They seem so hackneyed and stylized that when you hear them onscreen, you just yawn and say, 'Well, next, please!' '
Bholaa can certainly be marketed as a conventional mass entertainer with paisa vasool action, but we need to witness more than simply heroic actions.