According to officials, two children were among the dead and ten more were hospitalized during the Russia-Ukraine war, according to news agency Reuters.
According to AFP, a helicopter crash outside of Kyiv, Ukraine, claimed the lives of 18 people, including the interior minister of the nation.
Oleksiy Kuleba, the governor of the Kyiv region, claimed that three children were also killed. Information regarding 29 injured people, including 15 minors, is available. They have all the support they require," he stated. The deputy minister and another official also passed away, according to the BBC in the United Kingdom.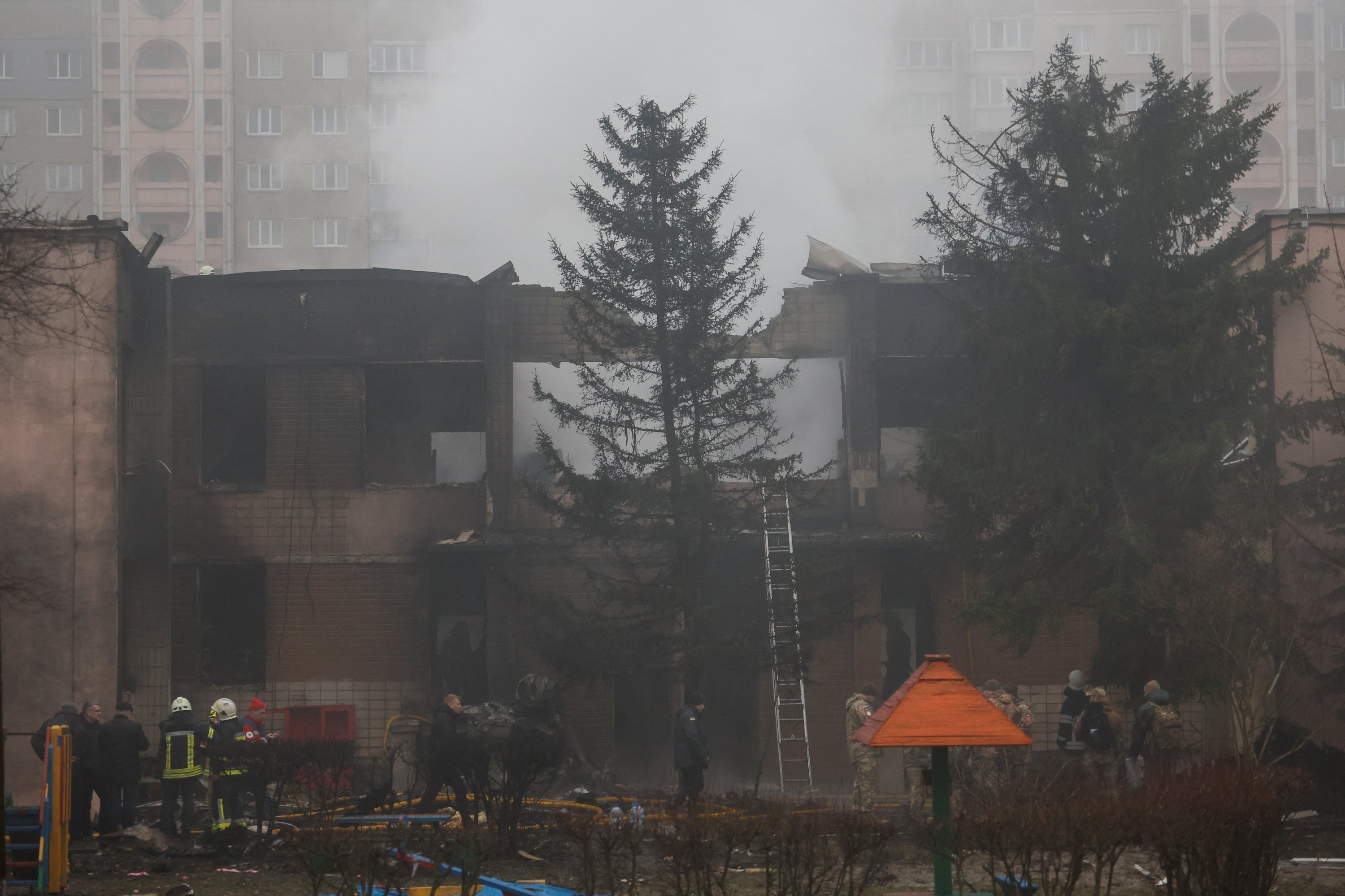 In Brovary, a helicopter crashed. Igor Klymenko, the chief of the Ukrainian police force, said that as a result, the interior ministry's leadership passed away.
Denys Monastyrsky, a 42-year-old father of two, served as the minister of the interior.
Northeast of Kyiv, in the hamlet of Brovary, the helicopter crashed.
Videos posted to social media show the crash site engulfed in flames and smoke as rescue efforts are made. According to AFP, the helicopter came to rest adjacent to a residential building and a kindergarten.
A video of the accident site was provided by Kira Rudik, a member of the Ukrainian parliament.
#Brovary. I find it hard to believe. 17 people are dead, 2 of them kids. The First Deputy Minister, the Secretary of State, and the Interior Minister passed away. Sincere condolences
Oleksiy Kuleba, chairman of Kyiv's regional administration, had earlier stated that a helicopter had crashed in Brovary, close to a school and a residence. When the event occurred,
Russia and Ukraine struggled for control of Brovary in the early phases of Vladimir Putin's invasion, which began in February last year. Defeated Russian troops withdrew from Brovary in early April.
The disaster comes after 45 people including six children died when a Russian missile damaged a residential building in the eastern city of Dnipro last week.