We've been planning our next trips of exploration while staying in and watching our favourite shows and working from home. At the same time, businesses in the travel and technology industries have been rapidly adapting to the times by creating cutting-edge technologies like artificial intelligence (AI), biometrics (biometric authentication), and remote work solutions (remote working). That should make the year 2023 a very busy one for vacations. In 2023, we anticipate the following major developments in travel-related technology.
1. Upgrades to Airport Technology
In the future, there will be a great deal more tech available at airports with the express purpose of making air travel more convenient. New technologies are stepping in everywhere, from before you leave your house to baggage claim, to alleviate the stresses of air travel. Reserve, a new service from Clear, allows you to reserve a place in the security queue in advance and pay nothing for the privilege. Clear also wants you to join its premium service, which includes biometric identification verification and faster security checks (eye or fingerprint scanning).
The TSA is increasing its biometrics trial. In order to verify passengers' identities, the TSA is now testing facial recognition technology in 16 airports, with intentions to expand the programme to more airports in the "coming months."
According to Amadeus's research on travel trends for 2023, once you pass through security, you'll have to use more of your face and hands to buy things like snacks and magazines. The ability to make purchases using facial recognition is currently available with ApplePay and Google Pay. This year, though, thanks to Amazon's "Just Walk Out" pilot programme, your favourite airport shop, Hudson, will accept palm recognition payments.
Companies like Boomerang, SITA, and Roadie will assist with the tracking, recovery, and delivery of your misplaced luggage once you have arrived at your final destination.
While we may all agree that using biometric data and personal item tracking would make flying much more convenient, we must also acknowledge the potential privacy issues associated with these practises. Considerations include the prevalence of false biometric identification (which is higher among persons of colour and trans and nonbinary people) and data breaches.
Furthermore, while participation in the TSA biometric experiment is voluntary at present, such initiatives frequently become the standard. Privacy expert Albert Fox Cahn told the Washington Post, "We commonly see with these biometric systems that they are only optional in the initial phases — then over time, we see them being standardised, nationalised, and finally compulsory."
Knowing what you're giving up and what you're getting into in exchange for a somewhat faster experience is crucial.
2. Airbnb's Dominance Remains Unchallenged.
Airbnb made a positive out of a negative situation in 2022. First, it ended the turmoil around the hidden cleaning price that was introduced at the last minute. Cleaning fees are now displayed as an option during a guest's Airbnb search. Airbnb also had the ultimate say on the rising pattern of hosts requesting excessive cleanings:
"When checking out of an Airbnb, guests shouldn't be expected to do excessive cleaning chores like stripping the beds, doing laundry, or vacuuming. While we appreciate our guests' hospitality, we believe it is only fair to request that they leave the space as they found it, meaning that they should turn out the lights, dispose of any rubbish, and lock the doors."
Secondly, it addressed the issue of landlords who forbade their renters to use Airbnb. Airbnb has previously overlooked this massive market, but it appears that include property owners in the profit sharing has paid dividends. Now, Airbnb has established the "Airbnb-friendly apartments" programme in conjunction with property management firms all around the United States.
Tenants can use the website to look for available apartments that accept Airbnb rentals and estimate how much money they might make as a host, taking into account Airbnb's and the landlord's fees. It's a brilliant way to help individuals deal with the rising cost of rent that Airbnb helped cause.
It doesn't matter if you like Airbnb or not, in 2023 they'll move forth with full force anyway. Short-term rental listing service Airbnb is predicted to be as popular as ever because to improved pricing transparency and an increase in the number of potential hosts. Moreover, as both the cost of travelling and the cost of owning a home continue to grow, Airbnb only stands to benefit.
3. Digital Nomads
Although there have always been people who work remotely, the recent pandemic has catapulted this lifestyle into the spotlight. More businesses are adopting hybrid and remote work arrangements as a result of studies showing the positive effects on employee happiness and productivity.
They are taking advantage of the digital nomad lifestyle now that they are not tied down to a specific area. Additionally, remote work is growing in popularity. Upwork predicts that by 2025, 36.2% of the U.S. workforce will be performing some form of remote work, a number that is double that of pre-pandemic years (16.8 million).
To that end, one billion individuals will be working remotely at least part of the time by 2035, according to Nomad List, a membership platform for digital nomads. Over four million people used the site in its previous year of operation.
In its infancy, digital nomadism was seen as a lifestyle exclusively available to the privileged young adults of the twenty-first century. You need a knowledge economy employment and access to the technology and devices that make remote working possible, as well as a relatively strong passport that makes tourist permits effortless to attain, as The Guardian put it in 2015.
Still, there was enough of a critical mass for digital nomad hubs and co-working spaces to begin appearing as broadband improved worldwide, flights got cheaper, and governments started giving visas that were friendly to remote workers.
Nomad List data shows that today's digital nomads are, on average, 33 years old, 44% female, and work in fields as diverse as marketing, user interface/user experience design, product management, and yes, software development.
To cut a long story short, the opportunity to live as a digital nomad has never been closer at hand.
4. More People Will Travel in the Real World Thanks to VR and AR
Because of the epidemic's devastating impact on the tourism industry, businesses were compelled to get innovative through the use of VR and AR. Euronews' 2023 travel report predicted that "coming out the other side," the same immersive technology would be used to improve the experience, rather than simply reproduce it.
As a result, virtual reality and augmented reality swiftly gained popularity as a means to satisfy the wanderlust of homebound consumers. You wouldn't even have to leave your house to see things like Machu Picchu and other historical locations.
In addition, it is currently being utilised by vacationers as a tool for destination analysis, "try before you buy" evaluation of potential lodging and sightseeing options, and reservation making. Expect more travel and tourism companies to provide VR tours as VR/AR becomes more common owing to Meta's Quest series and Sony's PlayStation 5 (and maybe soon Apple?) releasing consumer-friendly VR gear.
Companies like Beeyonder and Weezy have sprung up to provide immersive virtual travel experiences, while hotels like Marriott, Shangri-La, and Holiday Inn also give virtual tours of their rooms. In the end, VR/AR for tourism is being incorporated into each and every stage of the client journey. Virtual and augmented reality experiences will likely cross your way whether you're at home or on the go.
5. Beekeeping: Wild & Innovative Approaches to Reconnecting With Nature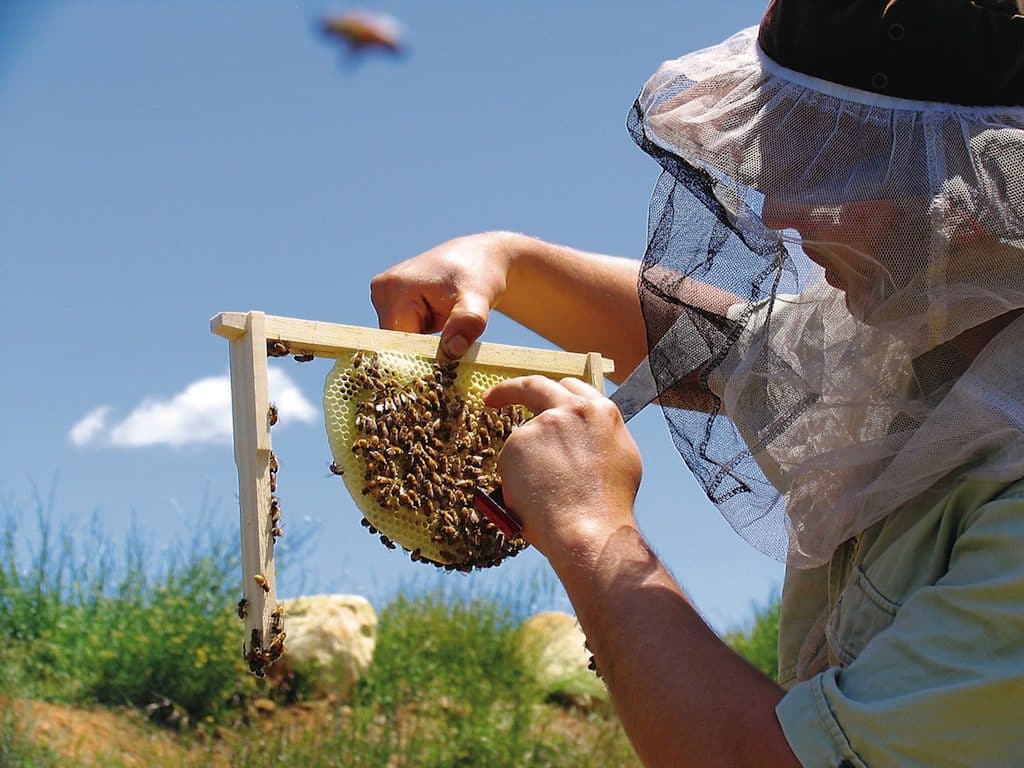 Everyone else is probably getting tired of hearing about technology too. There is a growing need for "device-free" recharging time. It's not surprising that health is becoming a top concern for vacationers in recent years. But a day at the spa isn't their only objective. Hotels.com, which is owned by Expedia, reports that 53% of American tourists in pursuit of health activities are interested in trying something novel and different. "The conventional yoga retreat seems to be on the way out. New approaches to health and wellbeing are what people are seeking "Melanie Fish, head of global public relations for Expedia Group Brands, made this statement at the 2023 travel trends event.
It's becoming increasingly common for hotels and tours to promote health and wellbeing through experiences like forest bathing (or sylvotherapy), foraging, fruit picking, and even beekeeping. In every corner of the globe, you can find a new and exciting alternative wellness location. Millennials seem to prefer the United States, but Generation Z favours more exotic locales like Norway, Turkey, Switzerland, Iceland, and Sri Lanka.
No matter if you're a digital nomad who makes frequent international travel a lifestyle or a vacationing worker who needs to get back into the swing of things, these technological developments will be bustling away in the background wherever you go.