Protesting the expansion of a coal mine in western Germany, which has become a flashpoint in the country's climate debate, Swedish climate activist Greta Thunberg was briefly held by police on Tuesday.
Large and controversial protests have been taking place in Lützerath, a small village that will be destroyed to make way for the nearby Garzweiler coal mine, for the past week. The Saturday protests drew a crowd of at least 15,000.
Twenty-year-old Thunberg, who spoke as a teenager at the 2018 United Nations Climate Change Conference, is now among the world's most known climate demonstrators.
Joining the protests in Lützerath, Germany, was a goal for Thunberg's trip this week. According to dpa, a German news agency, she was among a group of protestors who were taken into custody on Tuesday as they reached the mine's edge. Reuters reports that she was released soon after.
Garzweiler is one of three enormous open-pit coal mines in the German state of North Rhine-Westphalia. About 20% of Germany's carbon emissions come from the lignite coal extracted from the mines.
Over the years, all three mines have grown considerably. Over the years, the mines have forced the relocation and destruction of over 50 settlements in the area, some of which date back hundreds of years.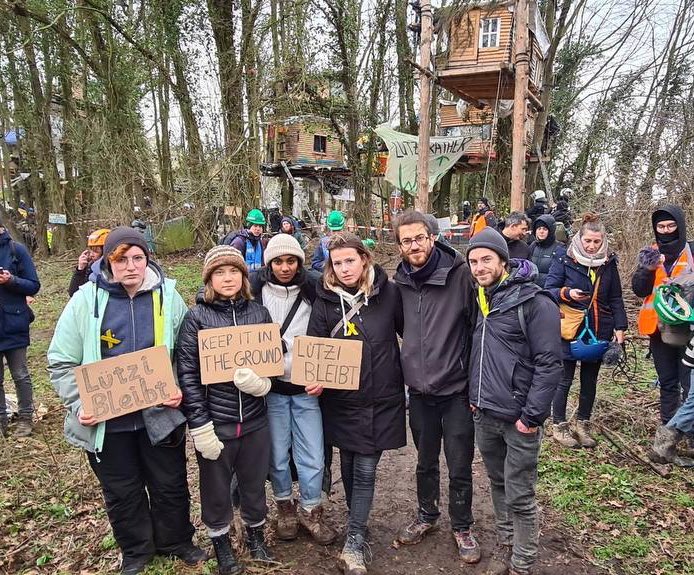 About ten years ago, a court approved the destruction of Lützerath, which is situated about 20 kilometers (12 miles) from Germany's western border.
RWE, the mining corporation, claims that all one hundred people of the hamlet were moved beginning in 2017. After that, protesters began squatting in the abandoned structures.
Last Monday the court made the decision to allow the squatters to be removed and the settlement to be demolished. Since then, the size and tension of the protests have only increased, leading to violent skirmishes between police and demonstrators in recent days.
Expansion of the mine, according to climate campaigners, will increase emissions of greenhouse gases, which could force Germany to fall short of its Paris Agreement commitments.
Over the past two years, energy has emerged as one of Germany's most divisive political issues. Despite the country's historical reliance on fossil fuels, recent pledges have committed it to significantly reducing its GHG emissions by 2030. The country's highest court then accelerated the timeframe to 2021, ruling that the government must take even more drastic measures to reduce pollution.
However, Germany reverted to coal power after Russia invaded Ukraine in early 2022, cutting off natural gas deliveries to Europe. In an effort to keep the lights on throughout the winter, at least 20 coal-fired power facilities around the country were revived or given additional time to operate past their initial closing dates.
German officials have warned that the country would again fall short of its climate goals in 2023 after missing them in 2022.
To expedite the demolition of Lützerath, RWE and the German government stated in October that the coal operations of RWE would be shut down earlier than originally planned.
The agreement required RWE to stop producing coal by 2030, which was eight years earlier than had been intended. Five additional settlements and three farms could be saved under the proposed proposal.
Until then, however, RWE stated they "needed to make optimal use" of coal, which meant destroying Lützerath because of how close it was to the mine's present edge.
All of this has enraged environmentalists, who have responded with frequent demonstrations in recent months, including the closure of key thoroughfares and the runways at airports in Munich and Berlin.
RWE said in a statement last week that the firm "regrets" the need for heavy police presence during the planned demolition process since "opposers of the opencast mine are calling for illegal disturbances and also criminal conduct."