Chaeyoung of TWICE issued an apology statement after uploading an Instagram photo of herself wearing a swastika T-shirt.
Chaeyoung, a member of the popular K-Pop group TWICE, has issued a public apology after an Instagram photo of her wearing a Sid Vicious T-shirt with a slanted Nazi emblem was uncovered.
The photo was removed on March 21 after fans pointed out the contentious graphic on the jersey.
Chaeyoung apologised in English, saying she was sorry for not accurately recognising the meaning of the emblem on the shirt she was wearing.
She promised to pay greater attention in the future to avoid a similar issue, and she apologised profusely for not thoroughly checking her attire before publishing the photo.
The fan reaction has been varied, although many have praised Chaeyoung for swiftly admitting her error and apologising.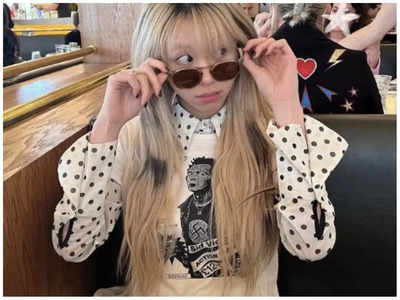 Some have used the incident to emphasise the significance of learning about Nazi history and symbolism.
This recent occurrence emphasises the necessity of paying attention to internet content and being conscious of the impact it might have on others.
Nazi history and symbolism are delicate and difficult themes for many individuals around the world, particularly those who were directly afflicted by the Nazi regime's atrocities during World War Two.
As a result, it is critical that people understand the significance of the symbols and pictures they utilise.
TWICE's Chaeyoung's case exemplifies how a person can make an inadvertent and unintentional mistake while yet having a significant impact on others.
Luckily, Chaeyoung swiftly admitted her error and apologised, demonstrating her dedication to becoming a diligent and responsible public figure.
This incident also emphasises the significance of social media education and historical awareness.
Individuals should take the effort to educate themselves and be conscious of the influence their actions and posts can have in an online culture that can be confusing and chaotic.
Knowledge on Nazi history and symbology is critical to avoiding a repeat of the past's horrors and promoting a more peaceful and accepting society.
Chaeyoung's error emphasises the need of being conscious of our online behaviours and educating ourselves on Nazi history and symbolism in order to avoid offending or harming others.
It is critical for public figures to be responsible and sensitive in their online behaviour and communication in order to contribute to a safer and more respectful online environment for all.
This incident occurs as TWICE prepares for their world tour, which will take them to various nations as well as some of the largest stadiums in the United States, therefore it's critical to maintain excellent relations with your fans.
The group published the short album "Ready To Be" which includes the track "Moonlight Sunrise" as well as "Set Me Free".