ALMA, Alabama – On Thursday, a tornado triggered by a massive storm system moving across the South killed at least six people in central Alabama and another in Georgia, knocked out power to tens of thousands, and ravaged Selma.
At least six people were killed and 40 to 50 homes damaged or destroyed in Autauga County, Alabama, which is located about 66 kilometres (41 miles) northeast of Selma, according to Ernie Baggett, the county's emergency management director.
Baggett told The Associated Press that he did not know the severity of the injuries sustained by at least 12 persons who were rushed to hospitals. On Thursday night, teams were busy clearing the area of fallen trees in search of survivors.
Late Thursday, Coroner Buster Barber of Autauga County said, "There are some residences that were entirely demolished that haven't been checked yet." He added that personnel "are still in the process of looking through wreckage."
Butts County Coroner Lacey Prue said that a storm-related tree collapse in Jackson, Georgia claimed the life of a passenger in the car. One freight train was reportedly derailed in the same county southeast of Atlanta.
As of Thursday evening, the National Weather Service had received reports of 33 tornadoes across the United States. A few tornado warnings were in effect for parts of Georgia, South Carolina, and North Carolina.
Some of the reported damage may be reclassified as wind damage if further evaluations are made in the following days, although at this time it has not been confirmed.
The downtown district of Selma, Alabama, a city that will forever be associated with the civil rights struggle, was a complete disaster, with brick buildings collapsing, automobiles on their sides, and traffic poles lying in random places.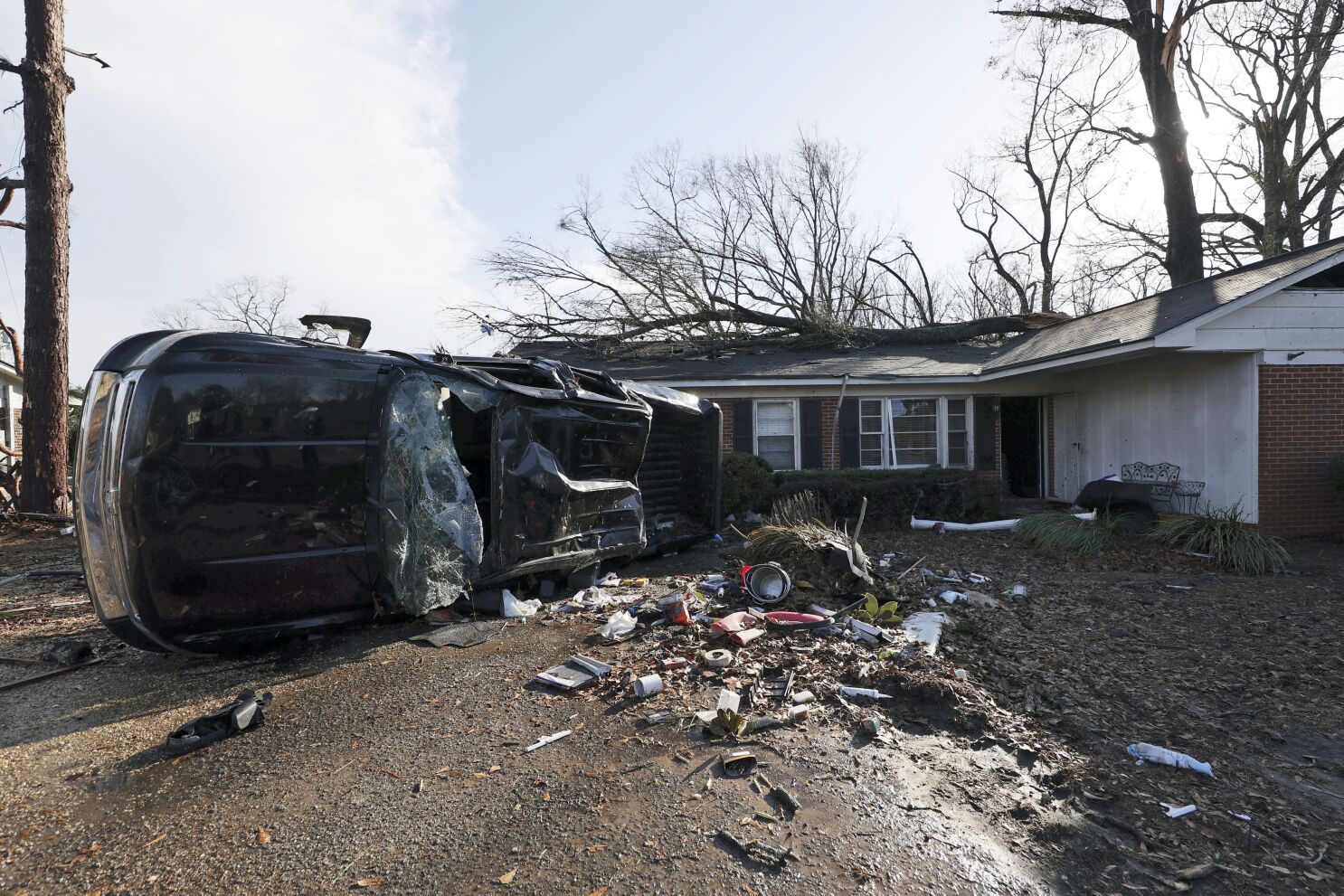 Thick, black smoke soared into the sky from an ongoing fire in the city. Whether or not the storm was responsible for the fire was unclear at first.
The hurricane flattened houses and uprooted trees just blocks away from the city's iconic Edmund Pettus Bridge, a symbol of the civil rights movement that has stood the test of time.
Although no fatalities have been confirmed, Mayor James Perkins of Selma noted that damage assessments were still ongoing.
He remarked, "We have a lot of downed power lines." "The streets are really hazardous."
Selma, Alabama, has a population of around 18,000. It is located about 50 miles (80 kilometres)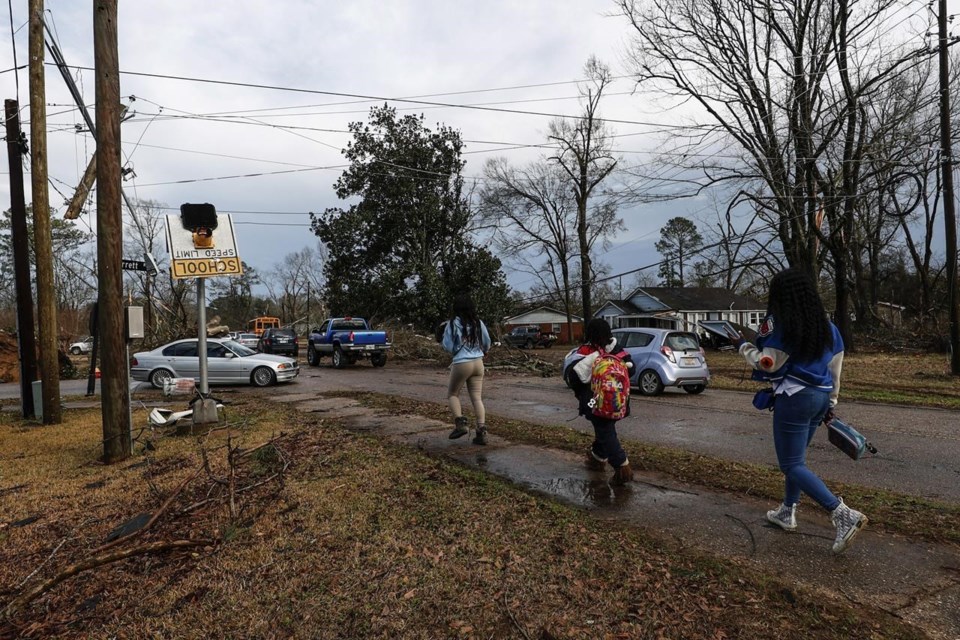 West of Montgomery, the state capital. On March 7, 1965, Black people marching for voting rights were attacked by Alabama state troopers as they tried to cross the Edmund Pettus Bridge, marking a turning moment in the civil rights struggle.
When Krishun Moore emerged from her house after the storm had passed, she heard the cries of her children. They urged the children to keep shouting until they located her and her mother atop the roof of the destroyed apartment building.
She guessed that the children were between the ages of one and four. She assured him and her over Facebook messaging that they were both healthy and well.
Malesha McVay and her loved ones took a risky detour around the storm by travelling in the opposite direction. She claimed it travelled fewer than two kilometres (less than a mile) from her house before doing a sharp U-turn.
"We paused and said some prayers. It led us to prayer, so we followed it "The words came from her mouth. That it veered away from my house at the last second can only be attributed to divine providence.
She recorded the massive twister on film, which grew dark as it destroyed structure after structure.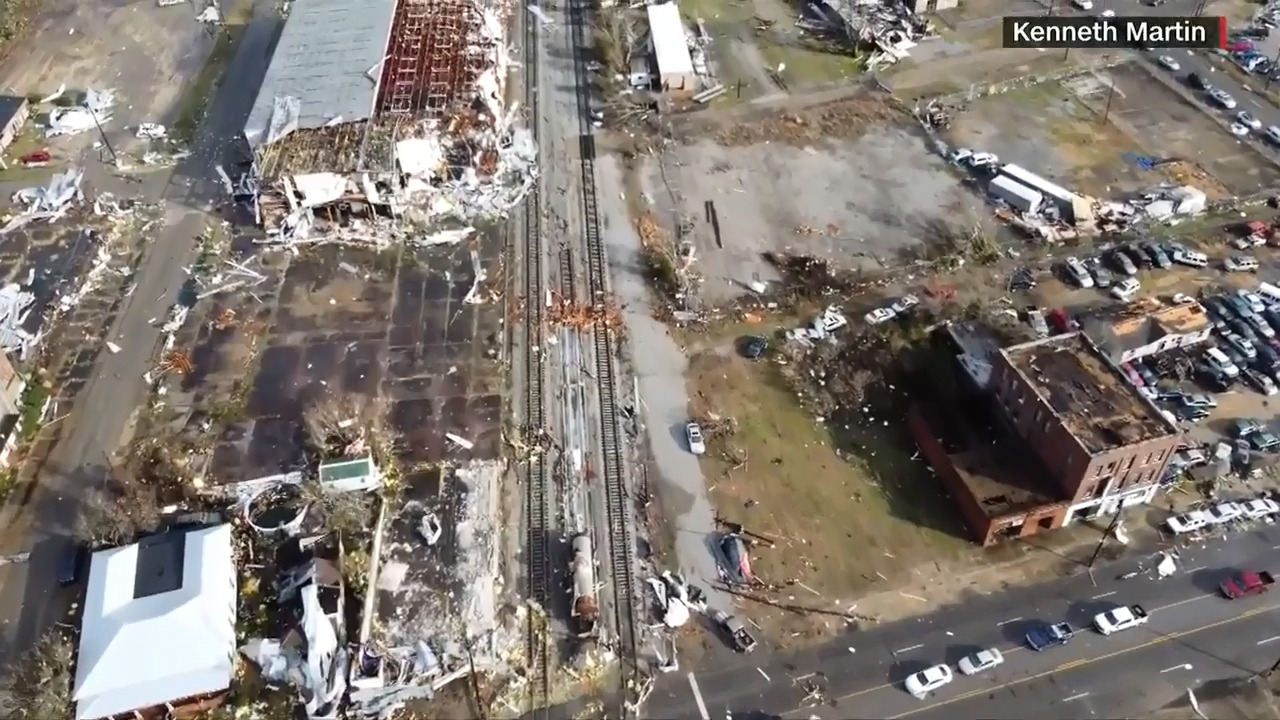 "Black smoke would spiral upward when it impacted a house," she explained. "It was horrifying in the extreme."
Tornado "struck our house, but not head-on," former state senator Hank Sanders said.
Windows in the bedroom and the living room were blown out, he claimed. "Rain is pouring into the kitchen from the ceiling."
According to PowerOutage.us, which monitors outages around the country, approximately 40,000 people in Alabama were without electricity on Thursday night. In Georgia, the storm system cut a swath across several counties south of Atlanta, leaving some 86,000 residents in the dark.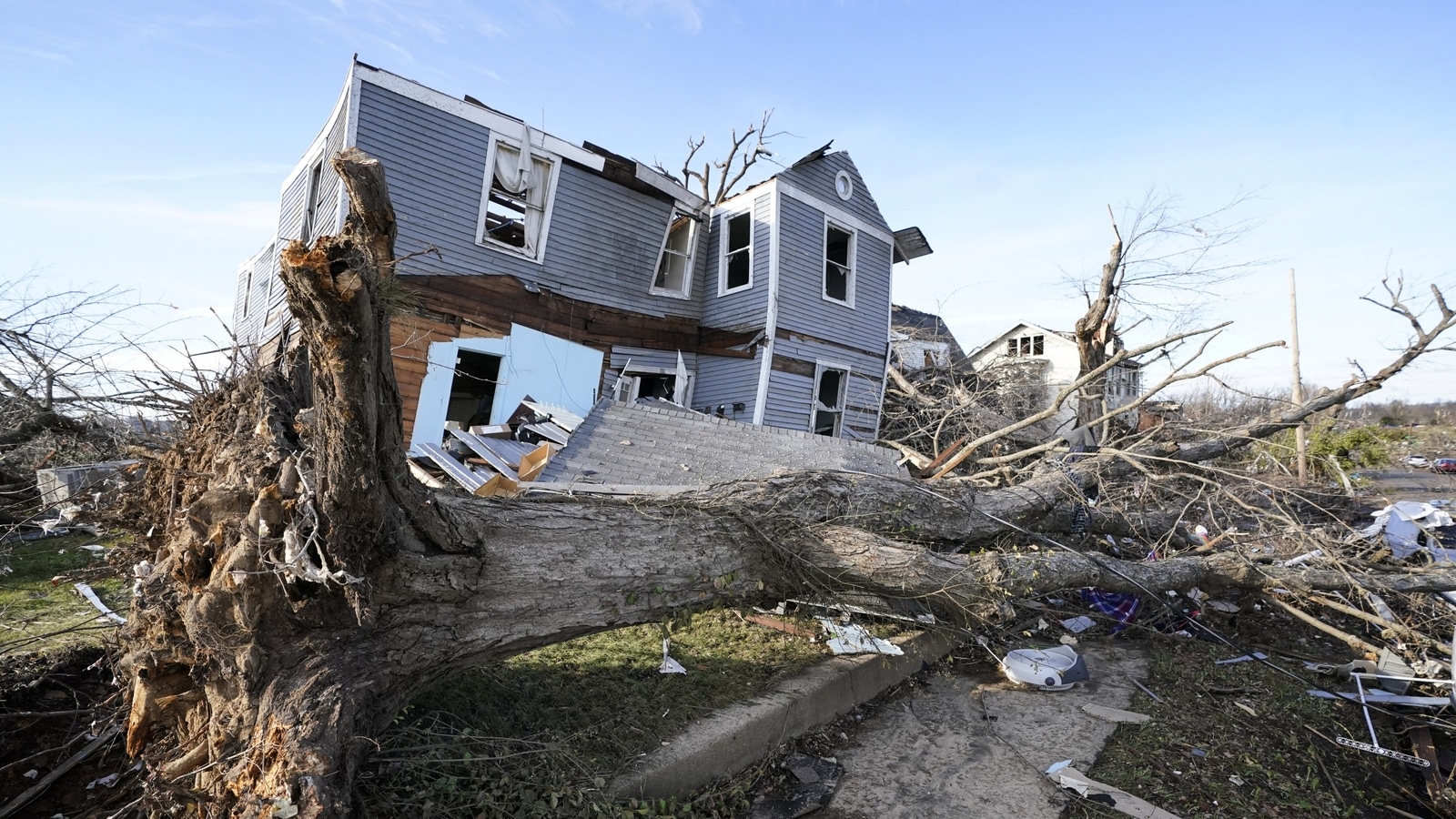 A shopping centre was damaged by the winds when the storm reached Griffin, Georgia, south of Atlanta, according to local media. At least one vehicle was flipped in the Walmart parking lot, and the roof of a nearby Hobby Lobby business was damaged.
West of Atlanta, in Douglas and Cobb Counties, a cinder block wall at a warehouse in suburban Austell broke, and the Cobb County government posted a damage report with photos.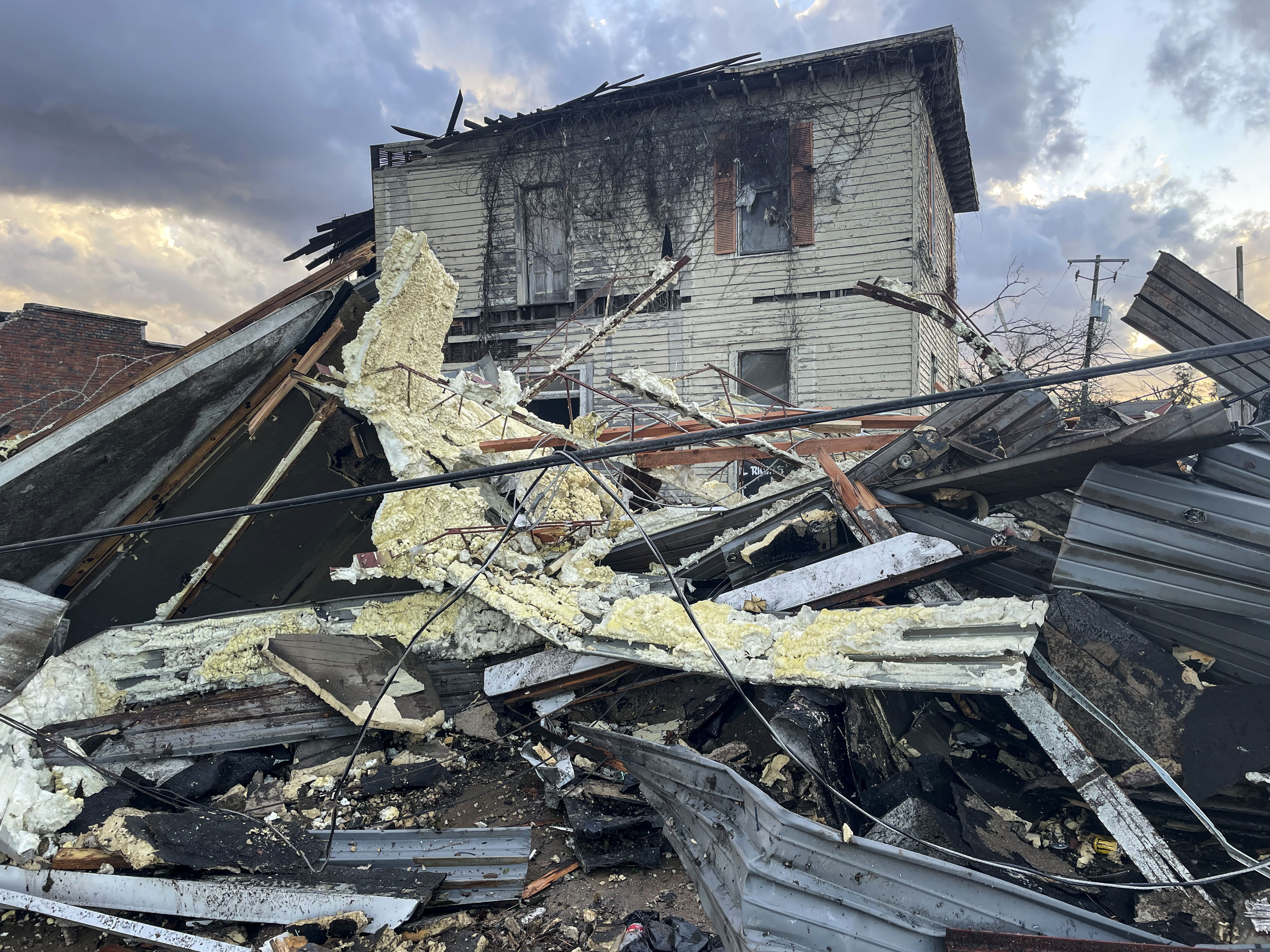 The National Weather Service office in Louisville, Kentucky, has reported that an EF-1 tornado has hit Mercer County and that workers are currently evaluating the damage in a number of neighbouring counties.
According to Victor Gensini, a meteorology professor at Northern Illinois University who studies tornado trends, Thursday's tornado outbreak was unusual and destructive because of a combination of three factors: the natural La Nina weather cycle, the warming of the Gulf of Mexico likely related to climate change, and a decades-long shift of tornadoes from the west to the east.
According to Gensini, a wavy jet stream created by the La Nina, a cooling of areas of the Pacific that affects global weather, was responsible for the passage of a cold front. However, that wouldn't be enough to cause a widespread tornado crisis. Dampness is a must.
The dew point was double the average for this time of year in the Southeast, where the air is typically dry. This is likely due to climate change, which is warming the Gulf of Mexico. As soon as that moisture met the cold front, Gensini explained, conditions were ideal.