Dmitry Peskov, the presidential spokesman, told Sky News that the casualties were "a huge tragedy for us."

He expressed optimism that Moscow would achieve its war objectives "in the coming days."

Mr Peskov's remarks came on the heels of Russia's expulsion from the United Nations Human Rights Council on Wednesday.

93 of the 193 members of the UN General Assembly voted in favour of the diplomatic rebuke, which came in response to allegations of mass human rights violations by Russian troops in the formerly occupied town of Bucha in northern Ukraine. In response, Moscow resigned from the council.

The body expressed "grave concern about the ongoing human rights and humanitarian crisis," and Ukraine's President Volodymyr Zelensky accused Russia of committing new atrocities in Borodyanka, a town near Kyiv.
Mr. Peskov denied any suggestion that Russian troops were involved in the executions in Bucha, telling the broadcaster that "we live in days of fakes and lies." He falsely claimed that photographs of civilians murdered in the town were staged.
His admission that Russia has suffered significant casualties, on the other hand, is startling. On March 25, Russia's Ministry of Defense announced that 1,351 of its soldiers had been killed in action. According to Ukraine, nearly 19,000 Russians have died.
Neither Russia's nor Ukraine's estimates of Russian losses can be independently verified, and analysts have warned that Russia may be underestimating casualties while Ukraine may be exaggerating them to boost morale. Western leaders estimate that 7,000 to 15,000 Russian soldiers were killed.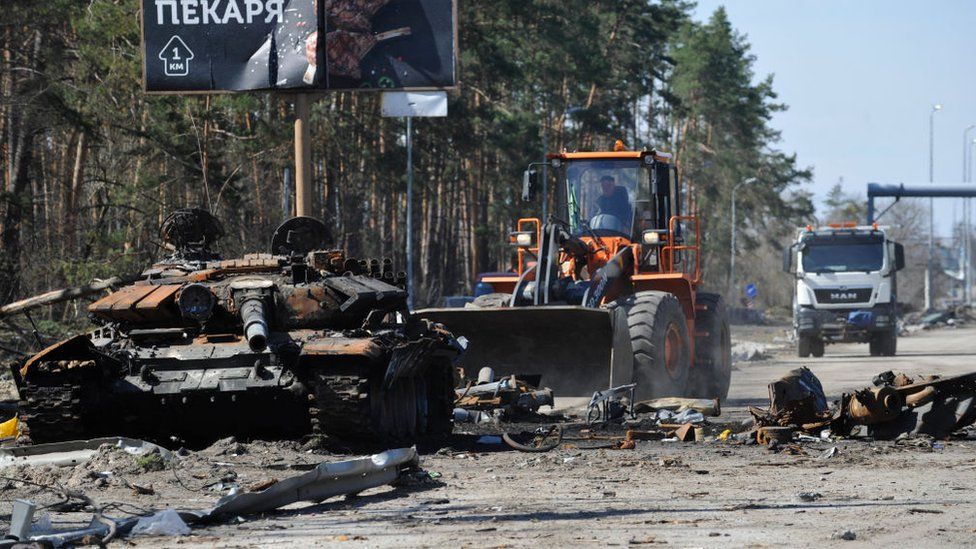 Ukraine's deputy prime minister has urged Ukrainians living in the east to flee while they still have the opportunity, and the intensity of the shelling has already hampered evacuations.
Western nations imposed new sanctions on Russia's economy on Thursday in retaliation for alleged war crimes in Ukraine.
The US Senate voted unanimously to revoke Moscow's "most favored nation" trade status, paving the way for harmful new tariffs and import controls on commodities such as platinum, chemicals, iron, and steel.
In addition, the EU agreed to gradually impose a ban on Russian coal imports worth approximately $4 billion (£3.3 billion) to the Russian economy over the next 120 days. Prime Minister Mikhail Mishustin admitted to Russia's parliament, the State Duma, that the cumulative impact of extensive sanctions has resulted in the country's worst economic outlook in decades.
"Without a doubt, the current situation in Russia could be described as the most difficult in three decades," he said. "Such sanctions were never used, not even during the darkest days of the Cold War."
However, he claimed that the impact of Western sanctions had been limited, telling lawmakers that the "financial system, the lifeblood of the entire economy, has held up."
Russia's currency, the rouble, has recovered to pre-war levels after falling to a historic low at the end of February.
Ukraine's President Zelensky has renewed his calls for new supplies of heavy weapons from the West, claiming that his forces require "weapons that will give it the means to win on the battlefield and that will be the strongest possible sanction against Russia."