On his Twitter account, Sachin commented, "No 'Border' between Gavaskar sir and myself…. in this shot, it's really B-T-G," with the letter 'T' representing for Tendulkar."
One of Sachin's followers on Twitter uploaded a picture of him to the social networking site, in which he can be seen posing alongside Sunil Gavaskar and Alan Border. In addition, Sachin has the very first Border-Gavaskar Trophy, which was the very first version of the trophy that was used for the series that was played between India and Australia.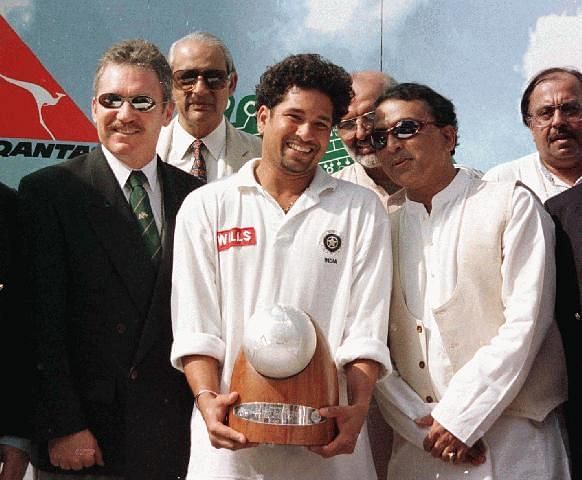 After receiving the user's message, Sachin thought of a new name for the series and responded to him. The series was rechristened the B-T-G series by Sachin, with the T standing for Tendulkar. Sachin also positioned himself in the middle of Alan Border and Sunil Gavaskar.
In honour of legendary players like as Alan Border and Sunil Gavaskar, the Border-Gavaskar Trophy competition is held every year. In addition to this, Sachin Tendulkar has the most runs scored in the Border-Gavaskar Trophy competition.
After Team India won the series 1-0, Sachin Tendulkar led Team India to their first ever Border-Gavaskar Trophy triumph in the series of 1996/97. This victory gave Team India their first ever Border-Gavaskar Trophy title. Since then, Team India has won the championship a total of nine times, while Australia has been victorious in the series a total of six times. The series that took place in 2003–2004 concluded in a tie.
Thursday, February 9th marks the beginning of the first test match of the Border-Gavaskar Trophy, which pits India against Australia. On the one hand, Australia has not been victorious in a series played in India since 2004, and the nation's cricket team has also been defeated in each of the three prior iterations of the series.
The last trip to Australia by Team India resulted in a historic series victory for the team, and India's performance in recent Test matches has been strong. Australia has also had a very successful home season, and they were victorious against Pakistan away from home in the year 2021.