Ultrasonic cavitation is a new technique used in weight loss, cellulite and obesity protocols. It is considered as the non-invasive alternative to liposuction.
The ultrasonic cavitation technique is based on clinical studies and research, carried out by injecting a hypotonic solution, which penetrates by osmosis inside the adiposite, swelling occurs, which makes the membrane more fragile, when receiving the impact of the ultrasonic waves , causes a burst of the fat cell. Successive bursts of micro bubbles form, leading to mechanical destruction of the fatty tissue. For this reason it is said, with good reason, that this new system is the non-invasive alternative to liposuction , since the fat cell is destroyed, something impossible until now, because the other slimming systems reduced the size of the cells, but they did not destroy them, except, as we indicated before, liposuction.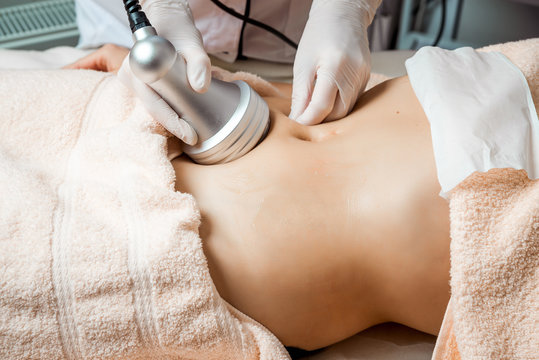 The most appropriate therapeutic indication for this new treatment is localized adiposities , with a marked hyperplastic component and compact forms of fibro-edema-sclerotic panniculopathy (PFEE). For this reason, correct training is still of great importance in order to make a diagnosis. precise and punctual and carry out the most appropriate techniques and protocols for the aesthetic pathologies that occur.
Once this treatment is done, go back to Radiofrequency , Pressotherapy and Dermosuction to drain all the liquefied adiposites and for the urine and lymphatic fluid to expel that fat tissue from the body, as well as to immediately reaffirm the muscle tissue so that A muscle ptosis does not occur, as unpleasant or more than the adiposity itself.In the case of more complicated cases, Aesthetic Medicine can be resorted to, performing the Hydrolipoclasia treatment, prior to cavitation, achieving severe or rebellious cases the total eradication of fatty tissue.